Right
Values
Why do corporations need to be values-led?
More than ever, values are a focus in business , career and governmental decisions. We live in turbulent times when organisations and their people require unprecedented flexibility and the capacity to quickly adapt to change if they are to thrive, survive and grow.
In his book, 'From Good to Great', Jim Collins writes 'enduring great companies preserve their core values and purpose while their business strategies and operating practices endlessly adapt to a changing world.' Yet so often Purpose and Values become separated from day to day tasks and actions in the fight to achieve goals and targets. They risk becoming vague concepts unrelated to daily life and lose their meaning and power to engage, involve, motivate and align individuals and organisations to their mission. Being values-led is vital for:
Survival – The short answer to the question above is survival. If you don't change to a values-based organisation—one that aligns its corporate values with its employees' values—you will not survive. Slowly but surely the disconnection of values erodes the foundation of any organisation.
Cost– If you have a toxic culture, one which drives away good people with solid values, it can cost you millions. Based upon research from Bradford Smart in his book 'Top Grading', losing one of your top people can cost you upwards of 24 times their salary.
Reputation – increasingly we are becoming switched on to organisations that think and act ethically and increasingly switched off to organisations that act unethically – look at the cases in the press just recently and the impact that unethical thinking and acting has had on reputation, revenue and survival.
What impact would it have if you knew that the people you work with share the 'right' values to deliver your purpose and safeguard your reputation?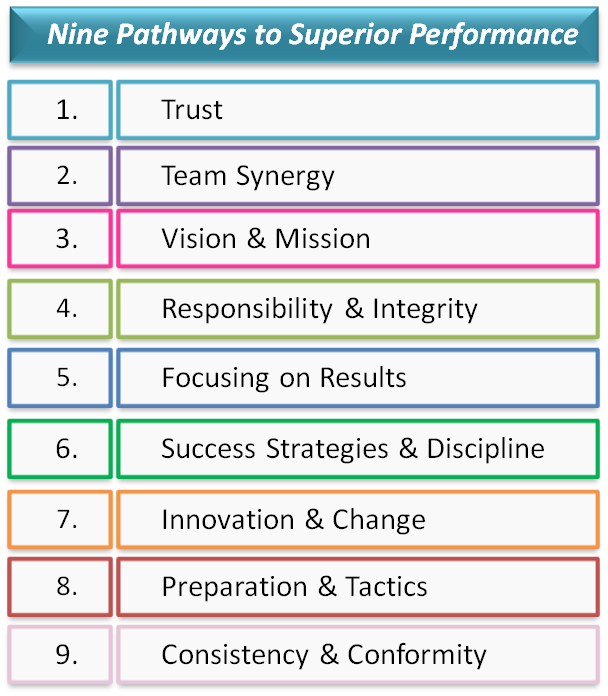 Defining 'Right' Values to deliver your Purpose and protect your reputation:
Imagine being able to accurately and objectively assess the likelihood of an employee or potential employee being able to demonstrate the values and behaviours that make your organisation a success. Using our 'Right Values' service with the Nine Pathways to Superior Performance (opposite and sample statements below) at its core, we can help you define the right values for your organisation and ensure you recruit and retain the right people to deliver your purpose and values.
To find out more about how this service can help your organisation improve retention, reduce risk, lower recruitment costs and improve business performance, click on the 'services' button above or contact us.
What behaviours would define 'Trust' in your organisation; what behaviours would be 'toxic'?

Source: Harvest Business Review, smallbizreview.com
High Potentials actively looking for new job
High Potential internal job moves that end in failure
Customers that leave because they feel unappreciated, unimportant and taken for granted
possible increase in profit with 5% increase in client retention
Don't Be Shy
Drop us a line anytime, and we will respond to you as soon as possible